Surprise proposal in front of the Eiffel Tower?   
Check.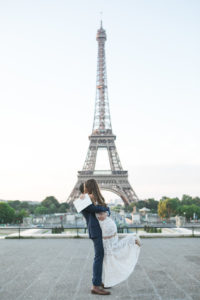 Celebrating our engagement with the owner of a champagne house who pops open a 1994 Vintage bottle from his own private collection while we look over the rolling hills of the French countryside? 
Check.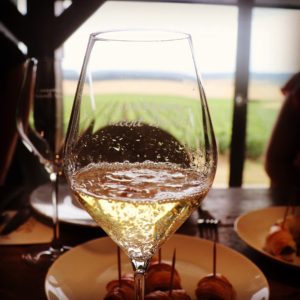 Exploring the Louvre, Notre Dame, Michelin star restaurants, and the infamous cobblestone streets of Paris?
Check.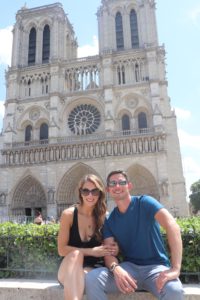 Lindsey and I are still reeling from our incredible experiences on our 19-day trip to Chicago & France, and we felt compelled to share some of what we learned and experienced with you…
This won't be an exhaustive "how to do Paris the best way ever" guide, and it won't be the most well-written piece I've ever offered because there is too much to share to polish it or make it Shakespeare…  Yet I trust the protips I list here will save you loads of time or headaches while traveling abroad.
My goal is simply to save you time if YOU want to take a similar trip yourself.  These are just my/our opinions and I mean no offense by the weird things we encountered or suggestions below.  Keep in mind this was peak season in France and during a hot summer of July 2018…
I'll break down everything into these main sections:
+ Paris Prep
+ Transportation
+ Food & Service
+ Parisian Culture
+ Must Do's while in Paris
+ Fashion Heads-Up
+ Apps you need for a great trip
(And a fun editor's note here… a hacker thought it would be fun to attempt to install something on my website, and although we caught it and removed anything malicious, it really threw a monkey wrench into the formatting of this blog… I apologize because the formatting changes appear irreversible!)
Quick background on our trip so you have some context on why we did what we did where we did it:
Lindsey booked an impromptu trip for work in Cannes (South France) so we decided to make the most of it, create some more work in France, and also take a little time to relax while traveling.  We arranged a 13-day trip to cover Southern France and Paris (because why not?!) with 6 days before and after the trip to hang out with family in the Chicago suburbs.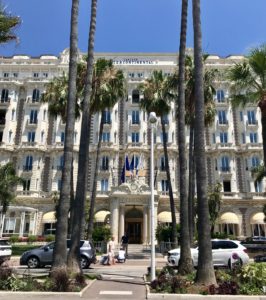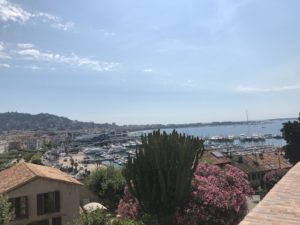 We drove from Louisville to Chicago, flew from Chicago to Paris, then flew from Paris to Nice, then took a car from Nice to Cannes and stayed there for 3.5 days. Cannes is a beautiful city with tons of pristine beaches, shopping, French & international restaurants, stunning hotels with ocean views and terraces, and an incredible castle/museum on top of the hill (walk there and explore your way down through the shops if you go!)
From Cannes, we took the train to Paris and explored the city for 9 days.  While in the most romantic city, I thought it would be fun to propose to Ms. Mango in front of the Eiffel Tower with a professional photographer to capture every moment…  After hurrying to buy Lindsey's dream ring, secretly hauling it through customs and across ~6,000 miles around the world in my pocket (with her almost discovering my plans at least twice) I'm excited to say we're engaged and happier than ever!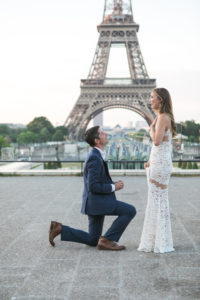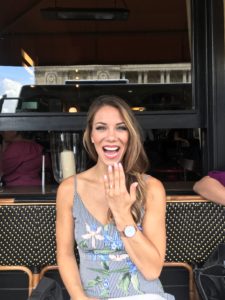 While this was a MASSIVE part of our trip, my goal in this blog is to move quickly through the main points of traveling through France and give you some simple tips because it would take me two days to tell you everything about the entire trip.  Some of this will be remedial if you've traveled abroad before, and if that's the case you're welcome to visit my other blogs.  Now let's get you to what matters:
Step one:  Hire a travel agent.  We used Debbie Linder with Golden Travel, Inc. and she was a huge help in arranging flights, hotels, personal drivers, train passes, "Paris Passes", day trips and events, and even restaurant reservations.  I HIGHLY recommend you contact an expert travel agent who has been there and done the trip the way you'd like to experience it… Then you can let the travel agent do what they're great at doing (coordinating travel) and you can get busy finding a better luggage set…
Steps two+:
Update passports 2+ months before you go.

  (A friend of mine just ordered and received a new one in 3 weeks so it may not take long!)  

You don't wanna be "that guy" waiting on your passport…
Go to your bank and exchange US dollars for Euros (we took about $850 USD, which was around 685 Euros.

 

I recommend getting a mix of 20s, 10s, and 5s for small purchases, tips to hotel staff/etc., and coffee breaks.

 

(If you're traveling for work I imagine you'll want to write a lot off from your work credit card anyway).

 

Our 685 euros was the perfect amount… I tipped the hotel guy my last 5 on my way out the door 🙂

 

FYI – The French still use some coins as well, so you'll usually end up with extra euros when you break a larger bill.
Alert your credit card companies about your travel plans, how long you'll be there, and add the help-line numbers from the back of your cards to your phone or email in case something gets stolen. If you have time, look into airline and travel credit cards that waive the conversion rate of euros to dollars, which is usually 3% on each purchase. Southwest and United have particularly good ones with many banks for about $100 annually, plus you rack up miles. 
I HIGHLY recommend 2 specific items for keeping your stuff safe.  I'd order these on Amazon ASAP if you're traveling abroad: 

Guys: get a Travel Safe wallet to hold your passports and credit cards.

 

This one comes with a lasso to slide your belt through so it can't be stolen.

 

Once it's attached to your belt, you can slide the wallet into your pants or put it into a pocket.  Either way it *should* stop anyone from being able to sweep your most important stuff while you're exploring.

 

The small profile of this one helped keep me from looking like I had an amardillo in my pocket/pants.

 

Keep your passport on you all the time so there's never a risk of losing track of it.  And yes, a LOT of European men wear man-purses, fanny packs, front-side backpacks, and these velcro wallet things.

 

Pick pockets are a for-real-thang in Europe so be prepared…. The size below was perfect for me for 2 passports, 1 debit card, 1 credit card, and — get this — for 7 full days I carried an engagement ring (no box) around Europe in it too.

 

This little wallet impressed the crap out of me for that reason…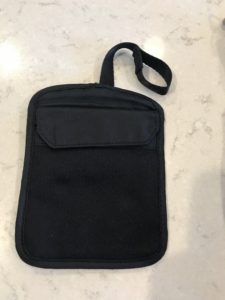 Ladies:

 

Get a small, slash-proof, crossbody purse with latching zippers.

 

Slashproof means a pick-pocket *shouldn't* be able to cut open your bag with a razor while you're on the Metro, etc.

 

The latches help make sure your bag stays closed while you're not looking at it.

 

These 2 things helped us keep our stuff when we rode public transportation, walked through crowds, and got "hit" by pickpockets….

 

We were in Trocadero Square for 3 minutes when 2 guys SLAMMED into us.

 

They apologized deeply and moved on quickly.

 

We checked our pockets ASAP and everything was in our protected wallet/purse so we were good.

 

Looked up and the guys were gone through the crowd…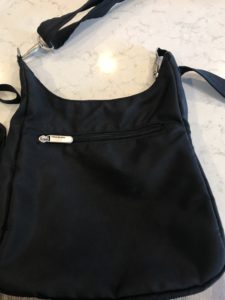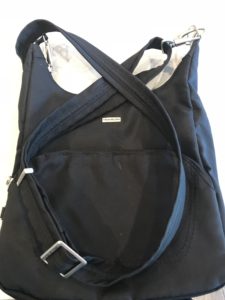 Luggage:

 

Travel as light as possible and get something extremely durable if you're going to be traveling abroad.

 

When you're tempted to grab that $60 giant plastic piece of junk from a department store instead of investing in a true piece of luggage, just think of the headache it would be to have a broken bag when you land in a foreign country.

Ladies:

 

Almost every hotel has hair dryers so just check with yours before you leave the U.S. and save the space in your bag.

 

Same for shampoos, etc. You will need a converter kit for plugs though.
Guys:

 

In Europe, most people don't carry much on them while they walk around.

 

It's common to never see a wallet in guys' pockets, and my experience was that only tourists carried a camera around with them.

 

Like I said above though, some guys wear man-purses, fanny packs, front-side backpacks, and messenger bags.
Everyone:

 

Use these incredible things called "packing cubes" or "luggage organizers".

 

They are small/medium/large cubed bags with mesh tops and zipper closures so you can organize your clothes really, really, REALLY, easily.

 

Small for socks (if you don't put them in your shoes) and underwear, medium for t-shirts, and large for pants.

 

When you get to the hotel you pull them out and everything is ready to go.

 

Lindsey made fun of me because I thought they were badass… until she unpacked hers and was like "oh ok, these are great!

 

And so are you Chris because you're the greatest guy in the world and I love how impressed you are with packing cubes…"

 

(Ed. Note: I reserve all rights to be creative with Lindsey's actual statement.)  

Obviously save some room and some weight for the things you're gonna bring back… we returned with two big tins of tea, some handpainted art, and new clothes/shoes/a small percentage of all the dresses in Paris…

Consider getting a luggage scale like this on Amazon.com Luggage Scale to weigh before you go.

 

Most of the time it's $80-100 extra at the airport for a 2nd checked bag or a really overweight one (sometimes they'll let you slide if you're slightly over the limit).
Get a reliable external phone charger if you're going to stay out exploring all day.

 

Lines get long, you get bored, and sometimes you wanna play on your phone while you wait.

 

Plus, you'll be taking pictures, Instagram videos, and all the selfies to put on the interwebs and it's gonna drain your battery.

 

We bought a Yoobao 8,000 mAh external power bank like this Yoobao Portable Charger and although it was a little heavy, it worked like a charm for 2 weeks traveling and in airports.

 

I dig it.
Plan your trip with a Google Doc or Sheet itinerary.

 

Sounds lame, and yet Lindsey and I used it 100 times before, during, and even after our trip.

 

We created a Google Sheet that we could each access to see our trip's most important details, keep track of reservations and addresses, and see at-a-glance what our trip was going to look like.

 

Plus, it was always backed up in the cloud. 
Pro-tip:

 

account for jet lag!

 

Paris is 7 hours ahead of Chicago and even though we're in great shape, we were a little fatigued from all the walking & exploring & waiting in lines.

 

We walked between 4-8 miles most days… so account for your jet lag, simply being tired, and leave some mornings for R&R.
Phone plan:

 

Most cell phone companies have an international plan you can buy.

 

We recommend it because you'll want to use your map, apps, text back home, call for reservations, send your momma photos of your engagement, etc. etc. while traveling.
We were told the busy season for Paris is June-late July, and that a LOT of French people take their "holidays" (vacations) in late July or through August.

 

Might be less busy in August, yet you may see more store & restaurant closures too…
Repeat after me:

 

VIATOR.

 

This is a website where you can see and book thousands of trips around the world.

 

They are rated by users and if they're ratings dips too low they are no longer offered on Viator.

 

Pretty cool right?

 

We used this to book a few of the best parts of our trip (Tour of Champagne in France and a dinner boat cruise along the Seine) Check out their tours and options here:  www.viator.com/
Ok that's enough prepping… on to the Parisian part…
+ Transportation
Get a Paris Pass + Museum Pass. Yes it's a little more expensive than exploring on foot, but you will waste waaaaaaay too much time in lines, walking across this expansive city, and figuring out where to go next without a Paris Pass. 

Buy it and read about it online before you arrive in Paris to map out the main attractions you want to visit.

 

Leave wiggle-room in your plans… there are labor strikes, museum closures (Louvre is closed on Tuesdays for instance), holidays, and random events (World Cup anyone?) that can mix up your plans.

 

Roll with it and do your best to see your non-negotiables.

Create time in your trip to travel to the Paris Pass office the 1st or 2nd day you're in Paris… 

Pro tip:

 

Pick up your Paris Pass at the same time you want to do the Hop on-Hop Off Tour Bus.

 

This is a surprisingly fun way to see the city in 1.5-3 hours and get a feel for everything, plus learn a lot of great history you won't get anywhere else. (history like: "Ernest Hemingway lost a suitcase of books somewhere around this block, Marie Antoinette was held captive right here, there's been a store in this exact spot since the 1300s," etc. etc.)

 

Pick up your Paris Pass, jump on the tour bus at the same office, and check out the whole city while you sit and take pictures… we had a blast with this and didn't save quite enough time to finish the tour (they end at 7pm). We both agreed we would do it again… and we would start it in the morning.  Superpro tip:

 

bring a reusable bottle of water and snacks for the tour.

 

We got hangry, and whatever the equivalent of hangry/thirsty is…

 

Hangsty?

 

Thirsgry?

 

It was not cool.
Be aware of worker strikes in the area…

 

We were really fortunate because a strike for the train workers ended right before we got into Paris.

 

Apparently it caused major issues for many travelers. It seems like they usually schedule the strikes, so search online to double check the status before you go…
If you're taking a train from another part of France, make sure you get CRYSTAL CLEAR where you're supposed to be and when, where you should stand on which platform, and which car you're supposed to board.

 

This was a real headache for us… we ended up asking 7 people and dragging about 125 pounds of luggage across several moving train cars to get to finally get to our seats after all the confusion.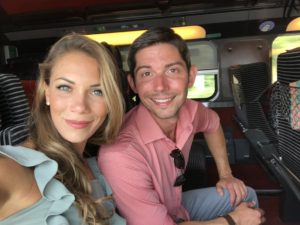 With your Paris Pass, make sure you get a pass for the Metro, which is Paris' subway system.

 

This little ticket lets you get on and off the most popular zones of the Metro in Paris.

 

This little dude can save you hours in traffic, get you across town in 20 minutes, and if you plan it right, pop you out of the metro right next to your hotel!
Metro Notes:

 

Really easy system that is color-coded, numbered, and easy to get the hang of.

 

Just google the videos before you leave the U.S. to get familiar with how it works.

 

I promise it's so simple.

 

We saw children navigating the Metro by themselves with complete confidence.

On your first trip through the Metro: pack extremely light, make sure your stuff is protected from pickpockets, watch out for thieves trying to slam into you as your enter or exit a railcar.  Be careful as you walk through the turnstyles too — these are a common place for people to pick pockets.

Pro tip:

 

Use the app called "PARIS METRO"… it's brilliant.

 

You can type in the starting station or your destination and it gives you options on how to get there through the metro with the exact stations, wait times, and level of difficulty explained all in one app. 
Uber: Make sure you update the app with international settings and keep your credit card info updated.

 

Occasionally you may want to use Uber instead of the metro (for instance, nice dinners when you're dressed up).
Traffic:

 

Dear God the traffic in Paris looks like the flying monkeys in the Wizard of Oz.

 

Lanes are merely suggestions (if they're painted on the road at all), motorcycles are apparently exempt from traffic rules, the Arch de Triumph roundabout is hilariously dangerous if you're not from Paris, and taxis/Ubers are simultaneously the best and worst drivers I've ever seen.

Parking?? Fughettaboutit. 

Basically, I don't recommend you drive in Paris unless you grew up in it.

Plus, only something like 10% of drivers in Paris have an automatic transmission, if that's your jam.  

Rush hours (in July anyway) seemed to be 9am-1pm and again from 6:45-8:45pm.

Again, use the Metro when possible.
Side note:

 

There are a thousand impressive cars at any moment all around you… We saw models from Bentley, Tesla, Mercedes (Maybach, AMG), Lamborghini,McLaren, Porsche, Ferrari, Rolls Royce, Audi R8s, all kinds of awesome super cars. If you're into it you can even rent them nearby on the Champs-Élysées.
+ Food & Service
There are literally 40,000-50,000 places to eat in Paris…. not ALL of France… that's JUST in the city of Paris.  Plan accordingly…
Food here is treated as an experience, not just a means for survival.  Here are our tips about food and service in no particular order:
Don't expect to get in and out of cafes or restaurants quickly.

 

It often took 3 minutes to get a coffee, 5 to get a starter (appetizer), and 20 for main plates, then 30-45 minutes just to get our check!

 

Don't hurry the waiters or they'll resent you, and often make you wait even longer.
Learn some French and attempt to speak it to let your waiter know you're not an arrogant American asshat.

 

Simple things like "Merci, sil vous plait, parlez vous anglais?" will go a loooong way most of the time.
Wine lists in restaurants are often like bibles… they're huge, full of variety, and could take years to understand and appreciate.

 

Most of the wine lists we saw are deeply diverse, impressive, and completely overwhelming if you're new to wine.

 

The waiters are helpful if you tell them what you want or what you like to drink back home…. I don't have enough time to tell you how awesome French wine is.

 

A lost of U.S. wine tastes like KOOL-aid after drinking French wines for 2 weeks lol…
Most places offer a 2 or 3-part menu with a starter (appetizer), entree (small plate), plat (American entree or larger plate), and dessert.

 

It's often much cheaper to order from these preset menus because it's easier on the chef.

 

They usually advertise the preset menu on a chalkboard out front.
There is apparently a 10% tax on food, 20% tax on alcohol, and a service fee (I.e. tip) included in most of the prices you'll see on menus.

 

Look for something that says "VAT included" and if you're not clear ASK IF THEY INCLUDE SERVICE in the listed price.

 

I wasted about 40 euros one night on a tip that I didn't need to give… ouch.

 

So when you flip out about a burger that costs 20 euros, consider taxes (a lot of them) and a tip to the waiter are usually included in the price listed.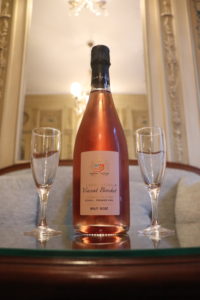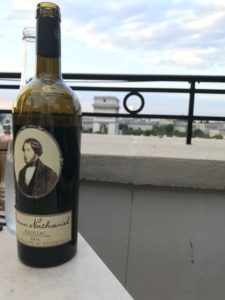 Table etiquette:

DO NOT splash your purse, phone, sunglasses, hand sanitizer, camera bag, and selfie stick onto the table when you sit down.

 

This is considered very rude here (remember, food is practically it's own sacrament in France).

There are purse holders for the table available in finer dining restaurants (a hook that holds your purse in other words), and usually extra space in your own chair… just be careful and don't let your neighbor get into your bags.

About water… apparently Americans are the thirstiest culture alive.

 

Lindsey and I don't chug water all day like fish, yet staying hydrated was a challenge in many parts of France.

 

Water must not be a regular part of the day in Paris.

 

The waiter will ask if you want still (mineral or tap water) or sparkling water (carbonated water…think Perrier, most of it is really good) and may charge for it.

 

Small bottles are often enough for a small meal, but if you're going to sit for a 2-3 hour lunch or dinner you may as well get a big bottle… or 3.

We recommend taking reusable water bottles with you around town while you explore, but don't take one to the Eiffel Tower… denied.

Waiters have their own subculture in Paris.

 

They may not be inclined to be as friendly as a midwestern or Southern waiter, and remember to give it a shot in French before switching to English only. Don't rush them, ask for the "le cheque sil vous plait" (the check please), and if you're paying by card they will bring a scanner out to your table, which is great because you never lose sight of your credit card.

 

You sign the dotted line without an extra tip because it's usually included in the menu price.

 

A 10% tip is considered very generous if you feel inclined.
Food itself:

Meals often work like this:

Breakfast: Anywhere from 7am-11am

Lunch:

 

some places close during lunch time.

 

Others are open Noon-3-ish for lunch.

Dinner: Anywhere from 7pm-11:00pm

We never struggled to find a place to eat at any time.
Taste as much as you can.

 

Some of it will be phenomenal, like the homemade croissants or the burrata cheese… and some will be awful.

 

For me, the "awful" was a gourmet dish consisting of a blanched tomato, sliced in half, carved hollow, filled in with a mixture of steamed octopus & gelatin, then sandwiched back together & served cold…. For some this is heaven.

 

For me, it was a strange way to waste a perfectly good tomato and some calamari 🙂
We loved: 

the authentic, fresh, homemade food everywhere we went. 

The ubiquitous breads, rolls, croissants, and cakes are lighter and less sweet than anything I've had in the U.S.

 

Period.
The wines.

 

Seriously… all the wines.

 

The French are so proud of their wine they won't serve you a bad one.

 

And if they accidentally do, they'll make it right.

 

Stretch your palate and see if you can find a new favorite wine while you're in France!
Some of the cheeses.

  

Taste around and see what you like!

 

Some will taste like dirty rotten dying zombie feet, and some will rock your world with how phenomenal they are.

 

Explore, taste, curse, and discover the cheese scene.
Eggs and bacon aren't really the main breakfast items here… we saw more breads, yogurts, salmon, fresh (amazing) fruits, vegetables prepared all ways, espressos, and pastries.

 

Explore, taste, learn, and see what you like.
All this aside, we didn't have a "bad" meal in 2 weeks in France.

 

With 40,000+ restaurants in Paris, you better be able to fill the seats and keep people coming back or else your restaurant won't last long!
Restaurant recommendations:

Cafe du L'homme:

 

Early on your trip, go here (next to Trocadero Square in the 1st floor of a museum).

 

The restaurant backs up to the Eiffel Tower with AMAZING views.

 

Order the tuna tataki, and if it's hot get a bottle of rose wine. In July it doesn't get dark until almost 10pm, so if you want evening pictures of the tower you must book a later reservation, or just linger around until dark.

 

Watch out for pickpockets outside on Trocadero Square.  www.cafedelhomme.com/en
La Duree:

 Champs-Élysées

 and a few others throughout Paris I think.

 

Worth EVERY bit of hype you hear…. www.laduree.fr/en/
For the best tea you'll ever have:

 

Mariage Fréres.

 

Expensive tea, worth it… try the Marco Polo blend… we brought back 2 cans because it was that good! www.mariagefreres.com/FR/
Maison Blanche:

 

If you want a gourmet experience, consider booking dinner here.

 

Price was reasonable compared to many places in Paris, and you can actually sit and look at the Eiffel Tower for dinner… although you'll probably have to ask for a seat in that section (we learned that the hard way).

 

Get the lobster starter for sure.   www.maison-blanche.fr/en/
Street crepes are really popular… hazelnut and banana, or fresh berry reign supreme.
Try some italian pasta on the

Champs-Élysées

 (C-E) or somewhere authentic… one of the best meals we had was "real" lasagna and pesto fettuccini at a random bistro on the C-E.
Chez Francais had a pretty good burger and a nice view of the Eiffel Tower.

 

https://www.yelp.com/biz/chez-francis-paris
Seriously though, most restaurants will only serve GREAT food.

 

Explore and don't settle for quick snacks unless you're stuck between starving and zombie cheese.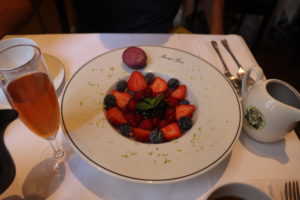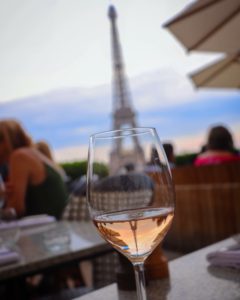 + Parisian Culture
Parisians are never in a hurry from what we witnessed… unless they're getting on/off a Metro train or they're in traffic.

 

Everything else seems to be at a laid-back pace.
We're from the Midwest where people greet you with a big, loud "Hiiiii!!" or a "Heeey, how are you guys??!"

 

Then they might even offer to bake you an apple pie… So we're a little jaded.

 

Parisians, in our brief time here, seemed mostly inexpressive, very direct, and helpful while not exactly being "friendly."

 

The exceptions were the boutique shop owners and tour guides, who were more like midwesterners than anyone I've met in Europe haha… In other words, don't take it personally if people don't smile at you and give you big welcome hugs.
Parisians don't just live here; they savor things here… the history, the arts, the culture, the food, the wines, the atmosphere… it's all part of a unique rhythm… If you can get into it that rhythm you'll see why nearly 4 million people love calling Paris home.
A note on independence… folks in Paris are somewhat rebellious (viva la revolucion!), appreciative of their liberal social rights (compared to many places), and thrive in a genuinely international community.

 

Sometimes you'll feel like you're walking through a circus and the financial district of New York… simultaneously.

 

It's fun to get out of our comfort zone…
+ Must Do's while in Paris
The Hop-On Hop-Off tour

The Paris Pass with Museum Pass, definitely for the:

Louvre

Musee d'Orsay (the huge clock)

 

and anything else your heart desires

Notre Dame

The cathedral is open to the public and 1st come 1st served.

 

Be respectful here, and no camera flashes.

The towers are available to climb, and here's the best way to do that:

Download an app call "Duck the Line" (has a hand shaped like a duck as the icon)

At 7:30am of the day you wish to climb the towers, log on to the app from wherever you are, and make a reservation for yourself or your group.

Show up to the towers 15 minutes before your scheduled time with your Paris Pass

Go in like Flynn, take cool pics, and don't skip the little door to the 2 huge bells inside… you'll feel like Quazzy Moto.

Gargoyles are eerie and fascinating.

Protip, the towers are hundreds of steps up and down in impressively small stairwells.

 

If you're claustrophobic, maybe skip this excursion…
Arch de Triumph – Pedestrians should use the underpass or face certain death.

 

The traffic and maneuvers from the cab/Uber/Parisian/scooter/motorcycle/electric scooter/hooverrounds are grounds for public endangerment in the U.S.
Naturally, the Eiffel Tower…

Security is serious here, so pack lightly.

 

Arrive early.

 

It took us about 30 minutes to get through the line, and that was WITH preprinted tickets.
If you can, get tickets in advance for a time you desire at the Sommet (the very top).

 

It was worth the extra money, plus you get access to the lower levels too.
Check the weather conditions on the official website before you go.

 

It's windy at the top most of the time.

If you're claustrophobic, I would consider skipping the elevators.

Get pics at the top and from the bottom looking straight up.

 

Some our best pictures were at the base looking upward!
Walk around Trocadero Square for classic photos of the Eiffel Tower and Paris at dawn or dusk.

 

Granted, we're particularly attached to this spot because we got engaged right here…

 

The crowds are minimal at first light.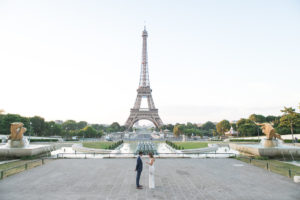 Viator wine/Champagne Tours in the Champagne region with Vincent as your guide…

Can't say enough awesome things about Vincent and this 10-hour day-trip!

 

It was easily our FAVORITE part of the trip… aside from our engagement…

You get to check out three champagne houses, learn from the masters how this challenging wine is crafted (and how difficult it really is to get it right), and walk through mazes of tunnels 15-40 meters below ground… some of which the Romans dug in the 4th Century! 

Taste several of the best champagnes in the world (it will ruin you for parties in the future lol)

Sit down and enjoy a phenomenal, privately prepared lunch in wine country…Worth every penny and then some… if you like wine/champagne/cool stuff you should commit to this tour with Vincent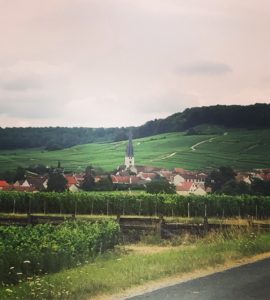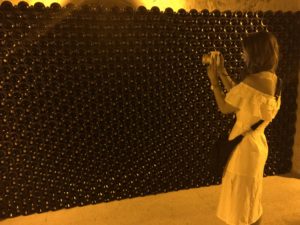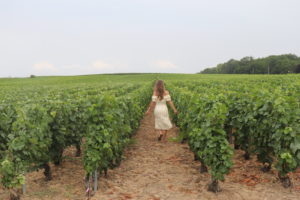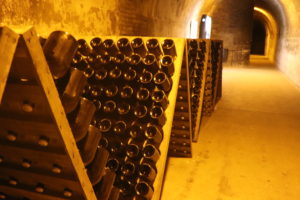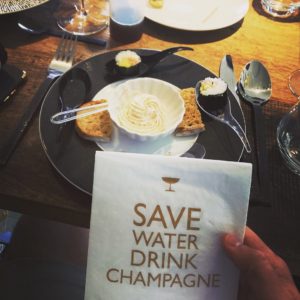 Shop & peruse the Champs Elysees, and explore around the Prada/Gucci/Chanel boutiques off to the side of it.

 

Impressive area, although not all Parisians were thrilled with the American stores and chains buying prime real estate in the area 😉
Walk along the Seine and soak up the Parisian architecture, stop at cafes – this can soak up a 1/2 day it's so incredible!
See the pyramids (above and below) at the Louvre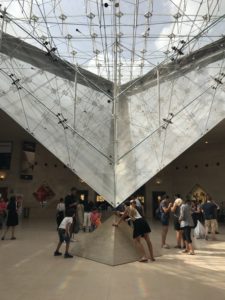 Many people say Versailles (about 45-60 minutes outside of Paris is a must) yet we didn't have time for it.

 

Check it out.
Rue de Cremieux is an Instagram favorite, yet I'd pass it up and get pics in front of some of the smaller streets around Notre Dame instead (Lindsey would disagree hah)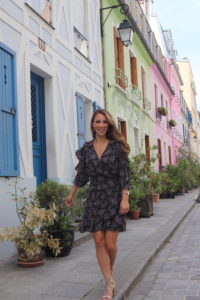 Sacre Coeur and Montmartre are favorites we didn't have time for, and many people swear we missed out… we were told by someone who grew up in Paris to really watch pick pockets and try not to stand out as Americans up there, so just a heads up.
Locally owned shops are peppered throughout the city, yet Lindsey and I found the ones near Notre Dame were the most impressive. Watch for "Soldes"… meaning the Parisians run big sales twice a year, kind of like our Black Friday sales.

 

Usually in January and July.

 

Great deals if you're around for them!
+ Fashion Heads Up (for Guys)
Hats:

Don't wear midwestern baseball hats (curled bill) unless you prefer to stand out.

 

I didn't see a single European wearing one.

Don't wear a westcoast baseball hat (flat bill) unless you prefer to stand out.

Surprisingly, fedoras and other non-baseball hats were common.
Skinny jeans and skinny pants in general are normal. Loose jeans and khakis are nonexistent.

 

Guys pretty much only wear shorts if it's 80+ degrees and significantly hot.

 

If you're going to wear shorts, I recommend ones with zippered pockets to keep your things safe in crowds. Remember – if it's not really hot the only people wearing shorts will likely be tourists.
Don't wear logo-wear, American flags, and other clearly American-brand clothing if you want to blend in… most European guys wear casual shoes (NOT running shoes) and in south France guys don't wear socks.

 

Not sure why, they just don't.
Fashion Heads Up (for Ladies)
The streets of Paris are mostly cobblestone and older than your great-grandma Betty. Lindsey doesn't recommend heels unless you're taking an Uber or a Metro trip without a lot of walking.

 

If you're doing the whole tourist experience with a lot of walking, I recommend very comfortable shoes (we walked about 7-9 miles on our busy sightseeing days).
In the middle of summer, don't expect to experience much air conditioning as we know it in the U.S. unless you're in buildings that were very recently built.

 

I don't think we felt a single place with "good" AC hah!

See notes above about the Travelon safe purse

Paris is a pinnacle of fashion and many women dress the part…

 

If you're going out to a fine dining restaurant or upscale show, consider that a warning 😉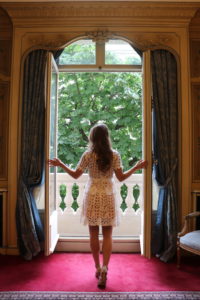 + Apps you need for a great trip
Uber:

 

make sure to update it for France/international service
Paris Pass:

 

awesome for tips, maps, and suggestions at the most popular spots
Mobile Passport: Load your passport info into this before you leave Paris, then when you land in the U.S. log back in and answer the few questions.

 

As of right now, you must answer these questions within 4 hours of coming into your U.S. destination.
Google Translate:

 

Take pictures, type text from and to all kinds of languages, and even use the speech feature if you're in a bind.
SmartTraveler:

 

An app from the US Dept. Of State about safety, alerts, etc.
MetroPass:

 

MISSION CRITICAL if you plan to use the metro system.

 

This awesome little app lets you pick the station you want to start at and it automatically creates a few metro routes based on time, difficulty, etc.

 

Loved using this when we knew where we wanted to start but didn't know how to get to point B.
Weather app.

 

Weather changes fast in Paris.

 

Storms/showers don't last long, yet they can be intense if you're standing outside in line for something without an umbrella.
Maps (even offline maps).

 

Paris is intense if you don't know which way you're going… get a little familiar with the map before you arrive and if possible take the Hop-on Hop-off tour early in your trip to get your bearings.
Sure there are plenty more apps to help.

 

In hindsight, I wish we had one to identify cheeses.
This blog really doesn't scratch the surface of Paris, international travel, and how to nail your first trip abroad yet we think it's full of tips we wish we had in once place before we left!
If you got something useful out of this please share it or comment on my social media and let me know so I can write a better blog after our next big adventure abroad!
Santé!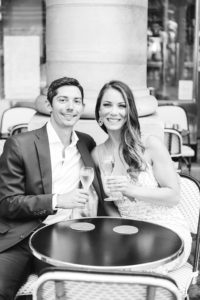 Follow me on social media!